In Light of Asia: Marcel Duchamp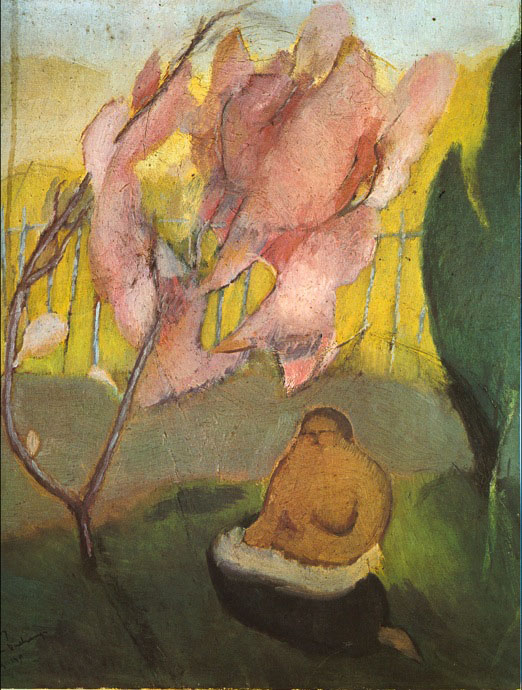 This image has an echo in one of the last figurative paintings Marcel Duchamp ever made, Draft on the Japanese Apple Tree. Duchamp was notoriously reluctant to explain anything in his art, and this was one the last clues that he left as to where he was headed. Around 1912, he went to stay in Munich, where a friend of his, Lucian Scherman, was putting on an exhibition at the Royal Ethnographic Museum of works he had collected in the Far East. The two of them spent hours discussing Buddhist art and ideas.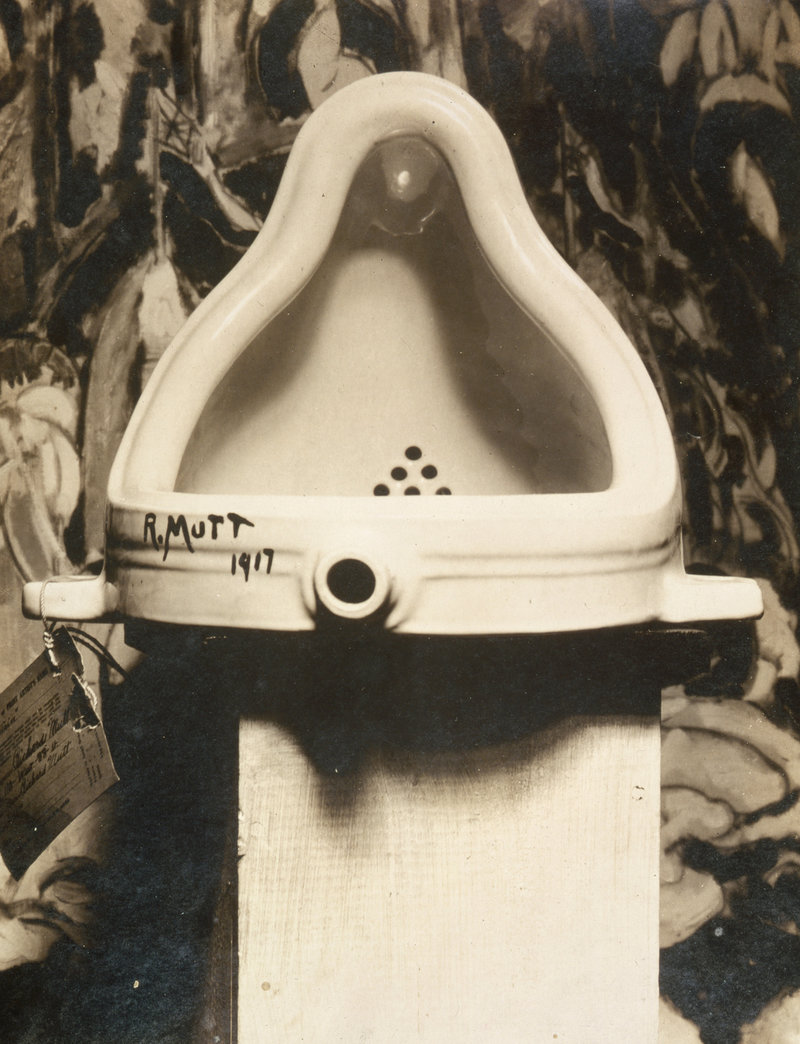 Fountain is Duchamp's most famous work. Simply an upturned urinal, it was extremely controversial, and many places refused to exhibit it – including the Dada Museum of Contemporary Art, where it was considered too vulgar. An associate of Duchamp, the American Louise Norton, wrote in the Dada journal The Blind Man:
When the jurors of the Society of Independent Artists [in New York] fairly rushed to remove the bit of sculpture called the Fountain sent in by Richard Mutt [Duchamp's alias for the piece] because the object was irrevocably associated in their atavistic minds with a certain natural function of a secretive sort … Yet to any innocent eye how pleasant is its chaste simplicity of line and color! Someone said, "Like a lovely Buddha" …
(There is a connection here to Draft on the Japanese Apple Tree: the shape under the tree is a very simple outline of a Buddha figure.)
An image we often find in Buddhist literature, as an analogy used to explain impermanence and the "No-I" concept, is the chariot. The Buddha explains that a chariot, once disassembled, is no longer a chariot, but a collection of parts with different names and different functions. Fountain contains a mixture of the sacred and the profane: that would have been Duchamp's intent. He challenges how we perceive form and emptiness.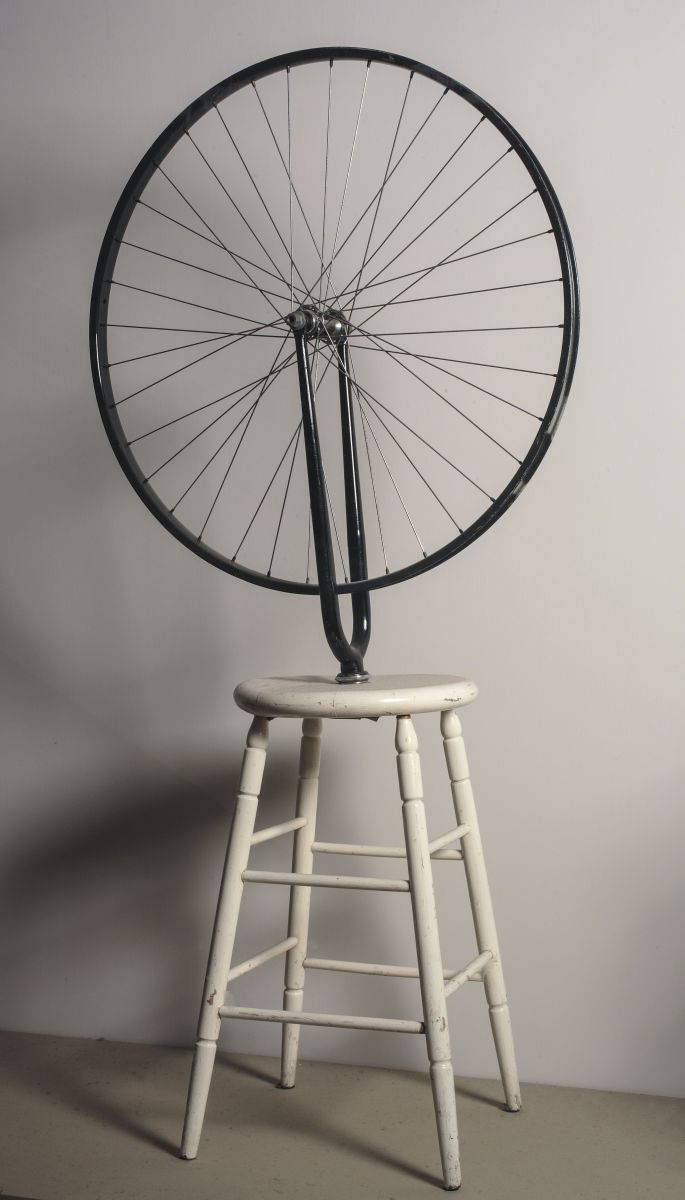 Fountain is an example of "found" art, or "readymades" (Duchamp's term), and here is another example, again by Duchamp: his celebrated Bicycle Wheel. Constrast this to the Buddhist symbol known as the Dharmachakra, or "wheel of the Dharma".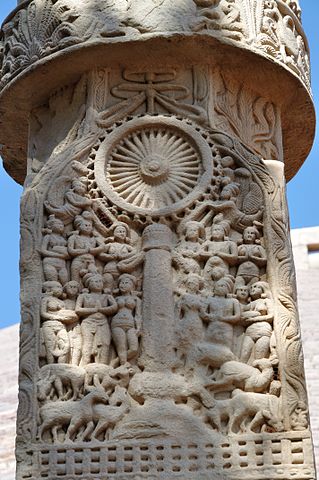 Intending for us to meditate on this object, and to see why a wheel should appear so interesting and different, Duchamp said:
"To see that wheel turning was very soothing, very comforting, a sort of opening of avenues on other things than material life of every day …"
When asked by Jasper Johns, who was more overtly influenced by Buddhism, if he would explain his art, Duchamp – by then old and ill – refused to be drawn into any such thing.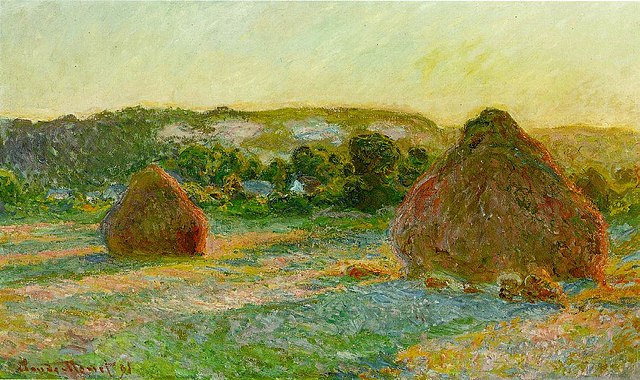 Returning to Monet, this image is from another series of paintings of the same subject – in this case, haystacks. Once again, each painting shows something very different.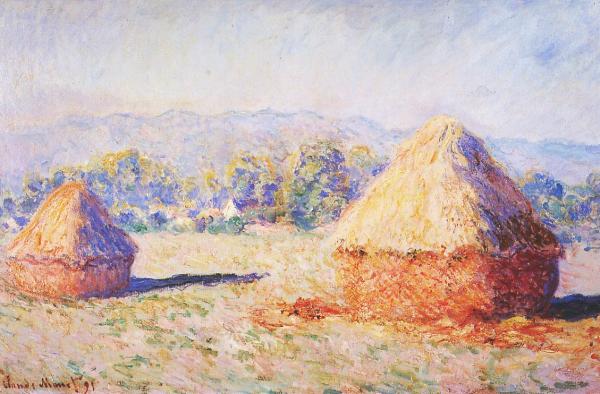 When these pictures were first exhibited, they caused a storm. People thought they were badly painted, or that the colours were badly chosen, or that the depictions were childish. One viewer, a young Russian painter and the son of a tea trader who had travelled to Mongolia and China, saw them in an exhibition in Moscow, and was simultaneously appalled, outraged, excited and shocked. He didn't immediately recognise the objects in the picture as haystacks, despite the title. That artist was Wassily Kandinsky, and he was ultimately heavily influenced by these pictures, describing the experience of seeing them as a "religious experience". What he took away from it was the realisation that a painting is not necessarily about its subject; he would eventually explore such ideas in his book Concerning the Spiritual in Art.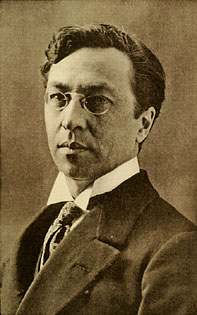 The year after viewing Monet's haystacks, Kandinsky settled in Munich. There he encountered some of the great scientific advances of the time, including x-rays and radiation. The idea of painting something that didn't physically exist absolutely amazed Kandinsky. He began questioning why paintings had to be "about" anything, and concluded that artists could liberate themselves by simply painting according to whatever inspiration emerged from them. He put the onus of looking at art back on the observer, claiming that the role of the observer was to bring meaning, not just to process meaning given by the artist.
He also made the following comment, which could easily have come from D. T. Suzuki: "We must attain the unattainable in an unattainable way." Art was no longer about a nice picture of a horse, or whether or not a painting of a horse looks like a horse; now it was about whatever the creative process brought to the canvas.
Kandinsky, too, was reluctant to explain his art, but he was passionate about the role of art in society and its ability to redeem mankind, the themes of his book Concerning the Spiritual in Art (1912). In the same year he became the German correspondent of the Russian art journal Appollon in which he reviewed a Japanese and East Asian art exhibition in Munich:
"We have turned, for obscure reasons, away from the internal towards the external. And yet, we Westerners shall not, after all, have to wait too long before that same inner sound, so strangely silenced, reawakens within us and, sounding forth from our innermost depths, involuntarily reveals its affinity with the East … "
This, too, sounds very much like something Christmas Humphreys, the founder of the Buddhist Society in the UK, would have said: "We spend a lot of time rediscovering something that people in the East had already known."
There are also a number of artists who aren't explicitly known for being Buddhist, but who took a distinctly Buddhist approach to their art...
Donate
The virtue of generosity, charity or giving. Your donations are welcomed.
Learn more