In Light of Asia: Paul Gaugin & Vincent van Gogh
Although known for their 'hell-raising' lifestyles both Gaugin and van Gogh were deeply touched by the teachings of Buddhism as well as by the styles of Japanese art.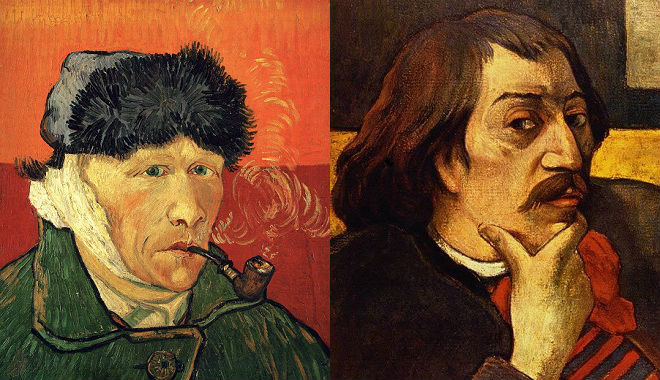 Van Gogh spent some time in Arles, painting with the artist Paul Gauguin. During that time, they explored Buddhism much more deeply.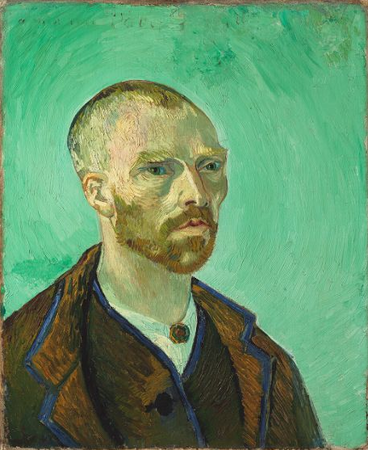 Much has been written about the trouble that Van Gogh and Gauguin got themselves into during their time in Arles, but most of the time they lived a very simple, austere life, only going into town once a month for a bit of hell-raising.
Van Gogh dedicated a self-portrait to Gauguin much later in his life. He had shaved his head and beard, and his hair was just beginning to grow back; he sent this portrait to Gauguin to let him know that he was doing well. What is sad about this picture is that it evokes a serenity that the artist's life clearly lacked. Rather than being a simple self-portrait, it expresses his aspirations and yearning.
In one his letters composed after Van Gogh's death, Gauguin writes touchingly:
To die at this time is a great happiness for him, for it puts an end to his suffering, and if he returns in another life, he will harvest the fruits of his fine conduct in the world, according to the law of the Buddha."
We can clearly see from this extract how much they had taken in of the Buddha's teachings, and that they had begun to understand the application of them. Although Van Gogh is probably not someone many associate with having a very strong Buddhist influence, the more we look at his art, the more we can see how influenced he was.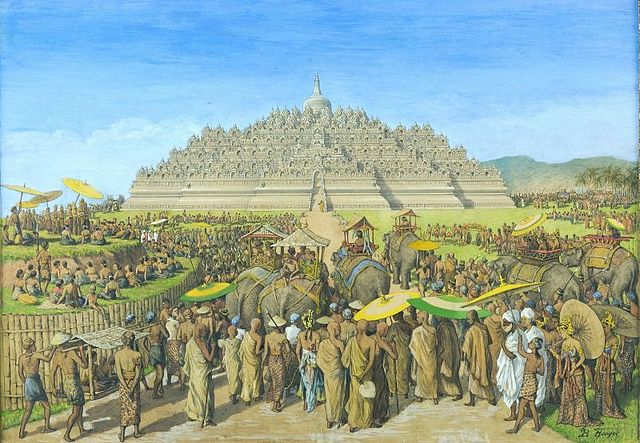 Gauguin's art was also influenced very heavily by his own understanding of Buddhism. He went to Tahiti to start a new life, leaving everything behind in France except for a few valuables that he needed to make art. Items he took with him included a frieze from Borobudur. the great 9th century Mahayana Buddhist temple in Central Java, Indonesia.
Gauguin had a very strong appreciation of what Buddhism could do for him. In his writings about Buddhism and its importance to him, one of the things he focused on was the humanity of the Buddha:
"Buddha, a simple mortal, who neither conceived nor comprehended God, but who fully conceived and fully comprehended the intelligence of the human heart … reached that eternal bliss, Nirvana, the last stage of a soul in its progressive movement through the ages. All people, by virtue of attainment of this wisdom, are able to become Buddhas."
This excerpt contains some non-Buddhist ideas about the transmigration of the soul rather than rebirth, but clearly Gauguin was working through a lot of Buddhist ideas, and Buddhism was having a big impact on his life. In fact, the word "nirvana" became very important to him: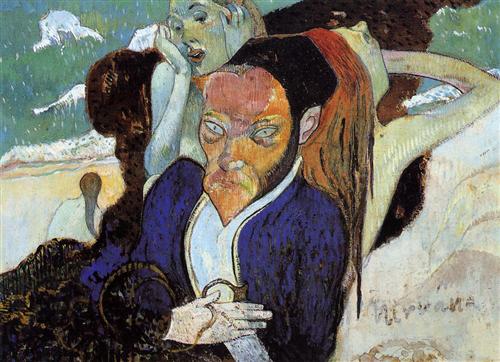 This is a portrait that he painted of a fellow artist, Meijer de Haan, at that time a student. He called the work Nirvana. It was painted in an Oriental style, and de Haan is represented here as a rather demonic figure. De Haan was born with several physical deformities, and Gauguin saw him as a very special person – as a Bodhisattva, because of what he had suffered.
In the painting, Gauguin expresses desire and its negation (the inclusion of a snake shows the influence of Vajrayana art). He frequently wrote about his yearning for freedom from desire, as well as his abandonment to it. For much of his life, he swung between these two extremes.
Gauguin had learned some of the iconography of Buddhism by looking at Buddhist art, and by reading books about it, and captured it beautifully in his art
Donate
The virtue of generosity, charity or giving. Your donations are welcomed.
Learn more