Words without Music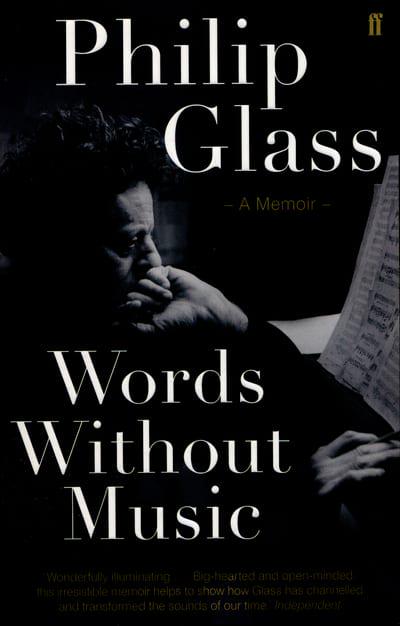 Koyaanisqatsi is a film without actors, plot or dialogue. It is a series of images contrasting the natural world with the built, human world. It plays with the rhythms of life and nature by blending time lapse to speed up and slow motion to slow capture the details of phrenetic human activity and contrasts those with the rhythms of the natural world. The overall effect is a mesmerising meditation on the impact of human activity on the planet. Koyaanisqatsi is a Hopi language word for "life out of balance". What holds this dreamworld of a film together is the hypnotic music of Philip Glass. I had never heard anything like it before. It seemed repetitive yet was endlessly varied, it had a mathematical precision and was still intensely moving. Since I first saw this film in the early 1980's the music of Philip Glass has been the sound track of the last three decades or so of my life. A cassette of his Glass Pieces was a constant companion for years. I would time a particularly difficult patch on my cycle to work to coincide with one of the dance pieces from "In the Upper Room" on my new and highly prized Sony Walkman. Yes, it was all that long ago. While whole technologies have come and gone Philip Glass's reputation has grown steadily and his audience has grown from a select avant garde listenership to fans of Hollywood action hero movies.
His memoirs appeared in 2015. I have generally adhered to the adage, "never get to know your heroes" and feared that getting to know the man who had created some of my favourite music would only ultimately detract from my enjoyment. It could only be downhill. However, I am also a cheapskate and finding a copy in a remainder shop for a few pounds was enough for me to take the risk.
He describes his early life in a Jewish family from Baltimore during the Second World War with affection and admiration but also distance and detachment. His connection with his parents' religion seems to extend no further than a regular visit with his father to a bagel shop. A third person biographer would have felt the need to explain or even describe more of the inner life of the young Philip than Philip himself does. He describes his trips across town for music lessons purely in terms of the details of the public transport system in Baltimore in the 1940's. He mentions that people commented on his talent but never gives a hint of what music meant to him, how or if it moved him, what dreams and ambitions it stirred in him.
This sets the tone for the style of the rest of the book. He goes to University in Chicago when he is 15 years old. We learn about his interest in the order and beauty of physics and mathematics in much the same way as we learn how some friends arranged with an older student to relieve him of his virginity before he went to New York to study at Juilliard.
In New York he seeks out a yoga teacher. We learn in passing that he has been vegetarian for years so the additional disciplines required by his teacher impact on him very little. In New York he begins his engagement with the experimental artistic world that was ultimately to become a Who's Who of the artistic frontier for the end of the 20th Century and the beginning of the current one. He leaves New York to study in Paris, having acquired a wife, JoAnne Akalaitis, who is described as a life-long collaborator and friend. You get the impression even at this stage that things did not go well with JoAnne. His marriage in a church was not well received by his parents and the breach with his father had not healed by the time of his death. He admits some surprise and a degree of sadness given how lightly they had worn their religious identity but seems to accept the estrangement with equanimity. His mother did get to see the debut of this opera "Einstein on the Beach" in Carnegie Hall in 1976. He recounts later how his mother had set aside some of her teacher's pension as a safety net for the permanently broke Philip in her will.
In New York, Glass also begins to study Indian classical music with Ravi Shankar. When he goes to Paris to study with Nadia Boulanger, JoAnne, his wife, works with an experimental theatre group and puts on the latest works by Beckett. A heady time you might think. At the end of their time in Paris, Glass and his wife take a boat from Barcelona to Istanbul and travel onwards, overland to India. In this section of the book Glass reveals the depth of his immersion in Eastern thought and in Tibetan Buddhism in particular. Yet we never read of a great insight or moment of clarity, only that he had been studying Tibetan for a number of years and regularly returned to Indian to continue his studies of Buddhism and music.
On his return to New York in the late 1960's he throws himself into the artistic life of the city. In between finding his own musical voice, he works as an assistant for Richard Serra in his studio and also works as a plumber and a taxi driver. He describes the process of attaching bathroom fittings with the same detail as he describes writing a piece of chamber music. I started to see that he gave every element of his life equal weight and importance. He occasionally mentions that he is asked to write a piece of music for the visit of the Dalai Lama, but it is dropped in between his description of the dangers of driving a taxi in New York in the 1970's and of the end of his marriage caused by his extramarital affair.
Only after the success of Einstein on the Beach in 1976 was Glass able to hand in his taxi license and become a full-time composer-performer. He has little time for the subsidized artists he meets in Europe and never laments having to work to sustain his art. In fact, he believes he benefitted from being grounded by installing bathrooms and ferrying New Yorkers in his taxi in between taking his opera on tour.
As he enjoys more and more success both critical and commercial, Glass maintains his steady tone and even keel. Even as he is writing his operas Akhnaten and Satyagraha he endures great personal sadness as the Aids epidemic wreaks its havoc in the artistic community of New York. His friend Allen Ginsberg dies surrounded by Tibetan monks easing his way into his next incarnation. He describes his sense of loss and disorientation when his partner Candy Jernigan dies of cancer. Typically, he concentrates more on the responses of his children who had grown to love her as a second mother, than on his own grief. In a rare crossing over of his life into his music he describes later that it was only as he neared the end of his opera based on Cocteau's Orphée did he realise he was writing it about his relationship with Candy.
As a reader, I began to see that his sense of detachment was rooted in his Buddhism. There is little sense of a "personality" called Philip Glass, he is living out his conception of not-I. He describes with equal affection his colourful neighbours in Cape Breton, and the great artists and performers of New York or the global musical superstar circles in which he now moves. There is really no discrimination. The details of the plumbing and composing now start to make sense.
As the book concludes he very warily approaches the question of where his music comes from. In the end he gives the idea little importance. He suggests instead that his role is more one of a listener than of a creator. His role is simply to transmit as accurately as possible the music he hears. His aim is not to let any "I" get in the way of that transmission.
He now states that he is no longer simply a Buddhist, but has synthesized elements of other belief systems such as native American and Toltec beliefs. If anyone has earned the right to be eclectic, it is Philip Glass.
So, you might ask, did I survive my contact with my hero? Maybe one view I might have formed of him was tarnished a little, but that is no bad thing. Nobody deserves to be venerated and denied their right to human frailties. It would take a lot to tarnish the utter wonder and joy I felt as I sat with my wife as we travelled home on the tube from seeing Satyagraha. We sat in dumbfounded silence for the whole journey. An opera based on episodes of the life of Mahatma Gandhi from his time in South Africa, using text from the Bhagavad Gita, sung in Sanskrit, might not be everyone's cup of tea. I can only say that if you ever get the chance to see it, see it.
One day, as yet a long way off, I will get to grips with one of the Metamorphoses, piano pieces he wrote for a fund-raiser for the Tibet Center in New York on the occasion of a visit by the Dalai Lama. The pleasure and the privilege will be mine.
Words Without Music: A Memoir by Philip Glass; pub. Faber & Faber 2016
Review by Michael O'Neill
Donate
The virtue of generosity, charity or giving. Your donations are welcomed.
Learn more