Oct 31, 2021

Martin Goodson
Editor of The Zen Gateway website and practitioner of Zen Buddhism.
Carving the Divine: Buddhist Sculptors of Japan
Film Review
A documentary on the training of wood sculptors who create Buddhas, Bodhisattvas and deities for the thousands of shrines throughout Japan.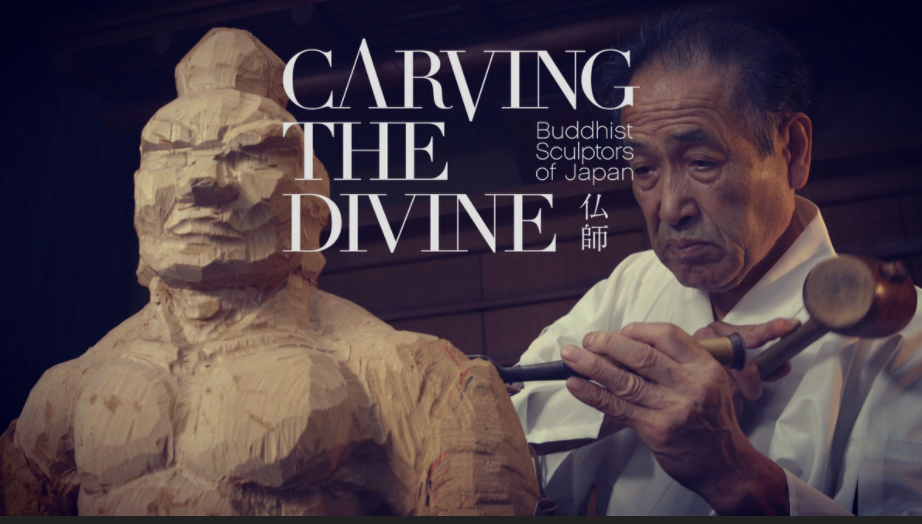 This film documentary by writer/director Yujiro Seki begins with one of the master sculptors (Busshi), interviewing a young man and a young woman who are applying to become apprentices.
He tells them that the life to which they are applying will be more suffering than joy, he will shout at them for getting things wrong, even if they have never done that particular task before. They must learn to crush their own opinions and to have none and that when he says 'No' to them it really means 'No'.
This austere admonition does nothing to put them off and we quickly see them in the workshop sweeping and cleaning, getting told off, having to jump to attention when the master comes in. Thus begins their three year preliminary training in the craft of wood sculpting Buddhist images.
The film provides a fascinating window into a 1,400 year old practice of elite wood carvers who provide images of Buddhas, bodhisattvas and deities for the shrines and temples of Japan.
There are interviews with the old master, his generation of successors and with the newer recruits whose lives become the perfection of their craft. This is the discipline that becomes the meaning of just about everything that they do. One master comments on his own old master who destroyed his TV when he failed to be able to operate it and was much happier spending the time carving and creating the most beautiful and intricate holy images.
The film gives an insight into how they see their work, which is not about creating aesthetic objects but rather vessels for the numinosity of the divine. These statues are to be the objects of veneration and offerings from the countless visitors to these holy venues. Their responsibility is to get every facet of these intricate images correct.
The old master is emphatic, that the skills he passes on and that his own students pass on to their apprentices should be exactly as taught, hence the strictness of the training.
What is clear, is that this training forges people and personalities as much as it is a training in a skill or craft. As a European viewer, the guilds of the medieval cathedral builders came to mind whilst watching this fascinating film. There is the learning of a craft but then there is the devotional aspect that gives a different meaning to the lives of those involved when in service to religious ends.
Trailer: Carving the Divine
The strictness and austerity are countered by touches of warmth too. Each evening, just before leaving, the apprentices are thanked for all their hard work for that day. In turn, the apprentices ask the master to guide them on the correct path tomorrow. There are also frequent visits to restaurants and cafes where the master shares his experience and wisdom over bowls of steaming noodles and cans of beer.
In the background we see the backdrop of urban Japan. It is like a world within another quite different type of world. Will that backdrop world overtake this much older world which seems to be based on the unpopular values of obedience, discipline and religious devotion? As we hear that many temples in Japan are closing due to a diminishing priesthood this is always a precarious possibility. If so, then this film is even more important and is a testament to what a pair of hands and a heart, with a pure intention, can achieve. In a world where most of our manual labour has been given over to technology, there is a danger that we might forget just what the naked human spirit can acheive.
The film will be shown at the Genesis Cinema on the Mile End Road in Bethnal Green, London, on 2nd November but is not yet on general release. Hopefully this will change as it certainly deserves a wider audience.
Donate
The virtue of generosity, charity or giving. Your donations are welcomed.
Learn more